Dignity of Risk and Independence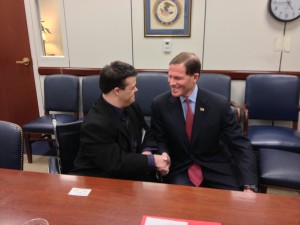 Here is my friend Zeb, who had the honor of meeting the Honorable Senator Blumenthal from the state of Connecticut while he and I were in Washington, DC last year as part of the National Down Syndrome Society Ambassador Program.  It was a great opportunity for us to be able to learn about and meet with our state Senators and Congressmen, to learn about how our government works, and how we can "have a voice."  Last year, the theme was to support the Achieving a Better Life (ABLE) Act.  This would help individuals with disabilities ease some of the strains associated with financial inequity.   See if your congressional representative has sponsored the bill, if not ask him or her to support the legislation.  Zeb's dream is to become an advocate for people with disabilities including Down syndrome.  He had done an internship in Senator Blumenthal's office while he was attending the Mason LIFE program, a post-secondary program for individuals with developmental disabilities.  http://masonlife.gmu.edu/  He always wanted to meet Senator Blumenthal, who was not in the office on the days that he was working there.  He continued to ask and to articulate what he wanted.  He is very persistent.   I respect that he is so perseverant, a great quality even if it can be challenging for the people around him. So, he did get to meet him.  By the way, he wants to meet President Obama too.  Perhaps that will happen some day (he has written to him).  What an accomplishment for him to meet the Honorable Senator!!!  He had always wanted to go to college and so, it was a risk, to apply.  At first he did not get accepted (he, his mom, and I did not know that an interview was required).  His mom, with support (a lot of coaching from me; her exact words, "more like holding my hand and giving me a swift kick") called to find out why he did not get accepted.  She found out that an interview was required.  So, off they went for an interview.  Once he was accepted (after he was told by his public high school team that he could not go to college, because he had an intellectual disability), off to VA.  So many challenges and opportunities… Leaving home, moving away, living far from home, new place, new people, new expectations…  The opportunity that Zeb had to go to college provided him with so much learning, learning to be independent and to be responsible for himself and his life.  Each time that he has taken a risk to do something outside of his comfort zone, there have been some amazing gifts and growth.  Yes, he and his mom sometimes need support and coaching, just like I do.  His mom had supported me in finishing up this website.  It only has taken me a year from start to finish.  Some people tell me that is not too long.  It felt like a long time.  As one of my friends would tell me, "flowers grow as fast as flowers grow."  Everyone learns and grows at their own pace.  Many things outside of my comfort zone with this website, including writing these blog entries.  I remind myself, "progress not perfection."  I always am learning.
A number of years ago, I was afraid of roller coasters.  You can see the photo.   I decided to overcome my fear and go on roller roaster until I was no longer afraid, so I did (unfortunately no picture to show the many times I went on the roller coaster).   Good friends and family support the people that we care about to take risks, to initiate so that we can bring our dreams closer to reality.  Congrats Zeb for making some of his dreams come true.  Your mom and I are here to continue to support you.   I, too,  am grateful to have people in my life who support me to take risks.  More to follow.